SOPAS, ENSALADAS Y PARA ACOMPAÑAR
Add Adobo Pollo (juicy seasoned chicken breast) to any ensalada for only 3.99
ENSALADA FRESCA 7.49
A spring mix with seasonal vegetables.
Gluten Free / Vegan
ENSALADA DE NOPAL 7.49
Si, real cactus! Tender pickled cactus seasoned with oregano, lime and combined with onion, tomatoes, avocado and cilantro - garnished with crumbled cheese and crispy corn tortilla strips. Gluten Free / Vegan
ENSALADA CAESAR 7.99
Fresh romaine lettuce tossed with creamy Caesar dressing, crispy tortillas, bacon bits and parmesan cheese.



SIDE DISHES (ORDENES PEQUEÑAS PARA ACOMPAÑAR)



Mexican Rice 2.99
Guacamole (small) 2.99

Pico de Gallo 2.49

Crema de Chipotle 2.49

Homemade Refried Beans 1.99

Pickled Jalapeños 1.99
Extra Basket of Fresh Tortilla Chips 2.49

Side of Sour Cream 1.25

Side of Cheese 1.25
SOPA AZTECA 7.99



A small deep-fried tortilla basket piled high with our famous guacamole pierced with crispy tortilla strips and garnished with sour cream, diced tomato, crumbled cheese and fresh cilantro. This scrumptious basket of textures and tastes is placed into a bowl of richly seasoned chicken or vegetable* broth that we make from scratch.
Gluten Free / *Vegan
CONSOMÉ DE POLLO 6.99
Our savoury chicken tinga with Mexican rice in slow-simmered chicken broth that we make from scratch. Sprinkled with fresh cilantro and accented with lime. Gluten Free
CONSOMÉ DE CAMARÓN 8.99
Whole pieces of plump shrimp with Mexican rice in a delectable homemade seafood broth. Sprinkled with fresh cilantro and accented with lime. Gluten Free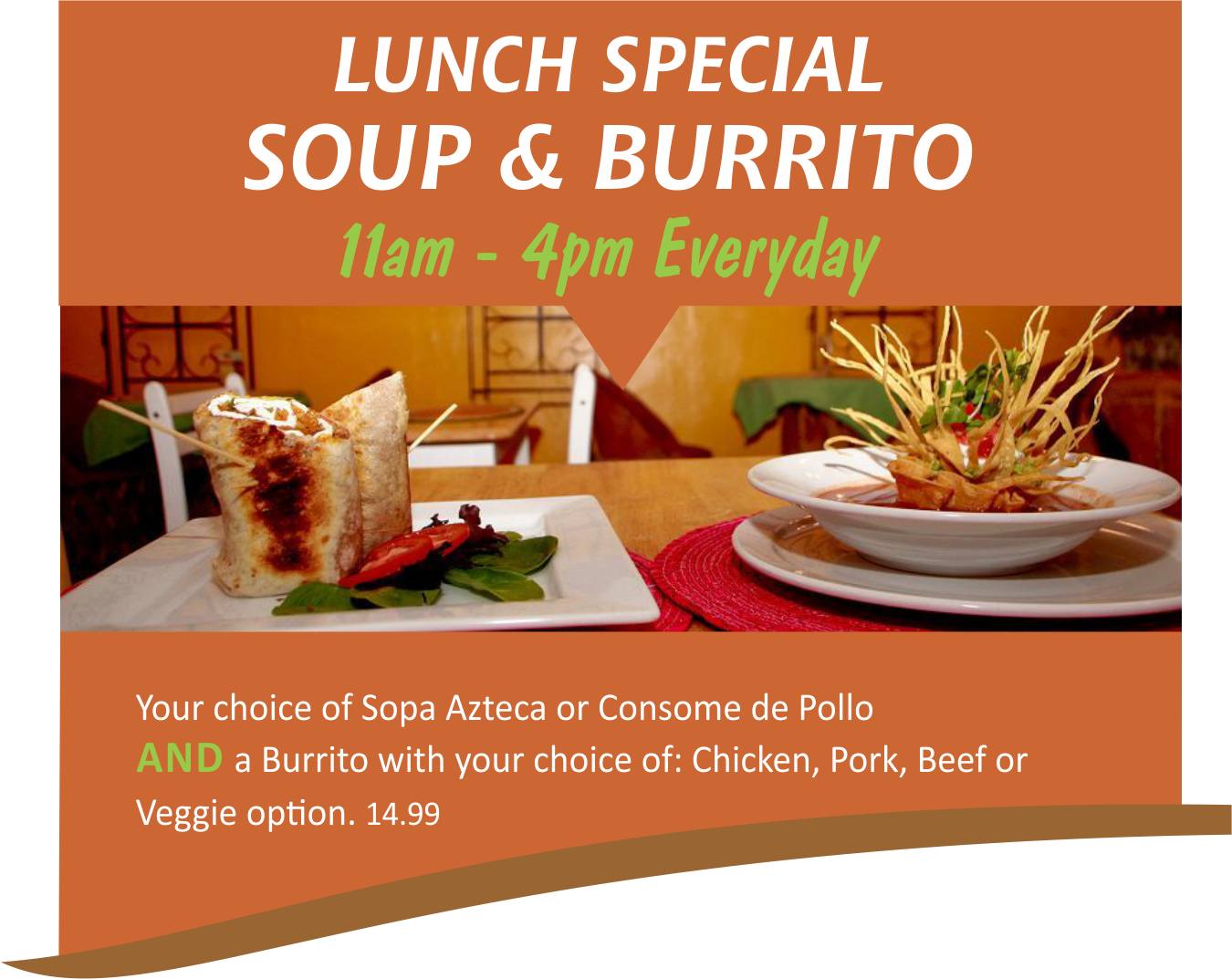 *The burrito is not gluten free