PLATILLOS PRINCIPALES
(MAIN COURSES)
CAMARONES a la DIABLA PICANTE 24.49
Juicy, spicy tiger shrimp grilled in a savory salsa mix of guajillo and chipotle. Served with Mexican rice, beans, and ensalada hacienda.
Gluten free
PESCADO JALISCIENCE 23.99
Grilled fish on a piping hot bed of salsa verde and Mexican rice. Topped with a tangy mango sauce and lavishly garnished with crisp corn tortilla strips and our famous guacamole.
Gluten free
FAJITAS 24.99
This Mexican specialty is not a 'wrap' as you might have thought. Fajitas are thinly-sliced cuts of beef or chicken, marinated and bursting with flavour on a sizzling bed of sautéed bell peppers and onions. Fajitas are accompanied on the side by our famous guacamole, sour cream, Mexican rice, and a plate of soft warm corn tortillas.
Feel free to create your own custom-made wraps! Order more tortillas if you would like at no extra cost!
• Fajitas Vegetarian 22.49
Meat is replaced by our delicious, homemade refried beans. Gluten free / Vegan
• Fajitas Camarón (Shrimp) 25.99
With plump juicy marinated shrimp. Gluten free
• Fajitas Deluxe 28.99
With an exciting medley of chicken, beef and shrimp.
Gluten free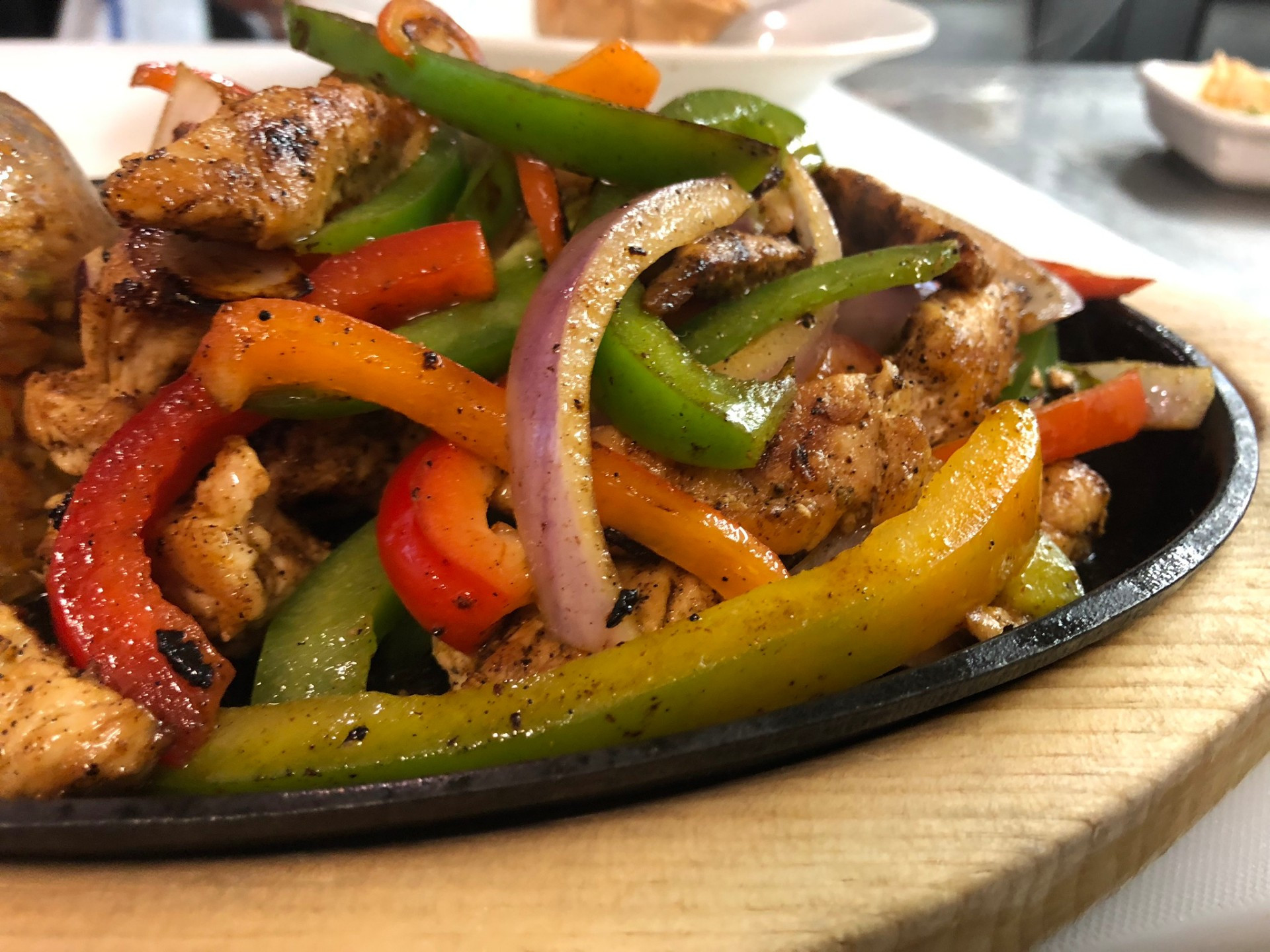 MOLCAJETE 24.99
Tender grilled pork loin grilled served on a hot molcajete (lava stone dish) with salsa verde and melted cheese. Served with rice, beans, guacamole, salad and tortillas on the side. Gluten free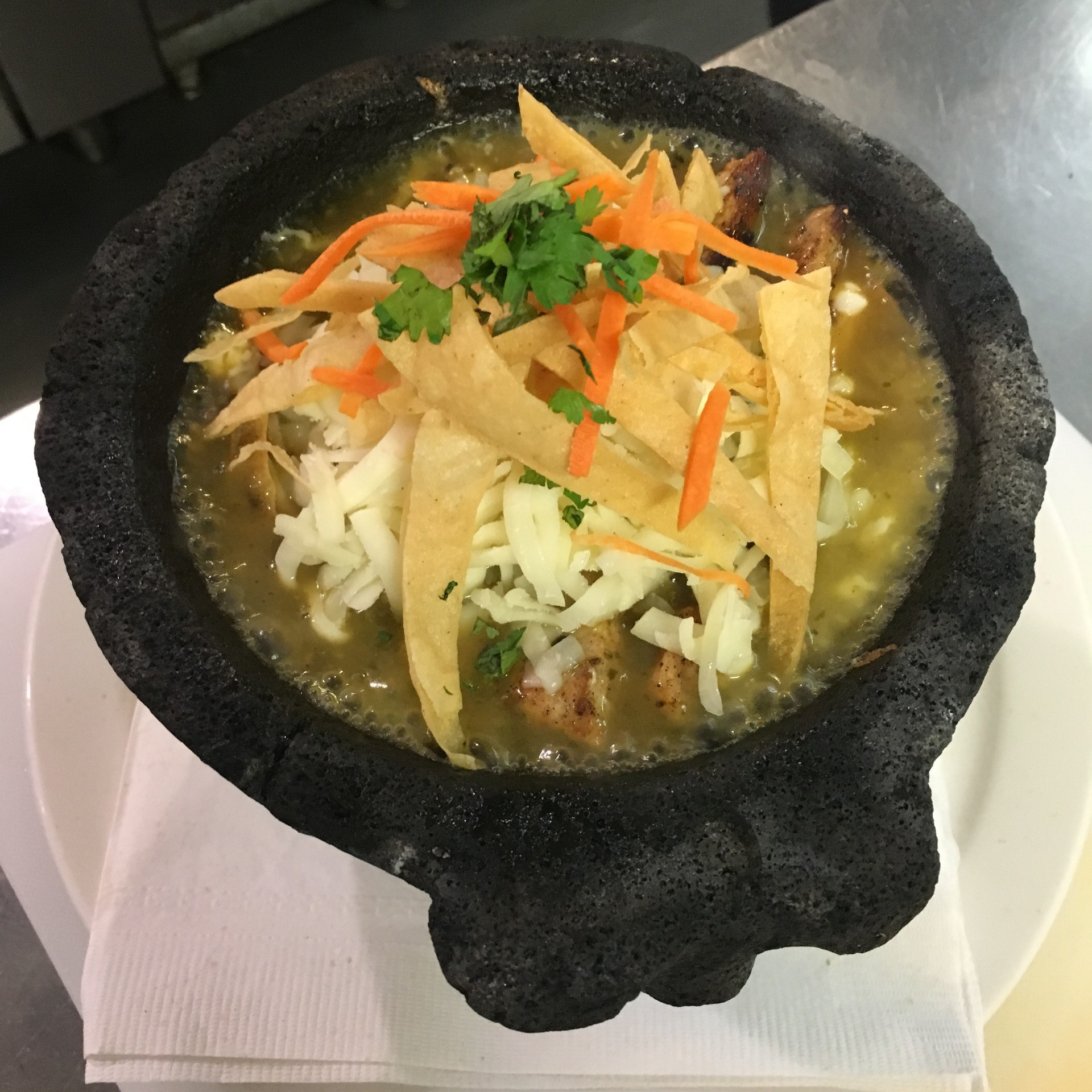 TAMPIQUEÑA 27.99
8 oz. of bavette steak supplied by Primal Cuts, thinly sliced and cooked in a juicy tomato sauce accompanied by two green bean vegetarian enchiladas - garnished with shredded lettuce, sour cream, and cheese. Served with Mexican rice and our famous guacamole. Our meat is fresh & from local butcher! Gluten free
FIESTA DE MARISCOS 28.99
A medley platter of seafood cooked in a delicious sauce with guajillo peppers. Served with rice, beans, guacamole, salad and tortillas on the side.
Gluten free
ENCHILADAS 23.99
Four lightly seasoned corn tortillas wrapped around our chicken tinga or homemade refried beans with your choice of salsa verde or salsa roja and garnished with shredded iceberg lettuce, crumbled cheese, and drizzled with sour cream. Mexican rice and our homemade refried beans served on the side. Gluten free / Ask for vegan
WANT BOTH VERDE & ROJA? MIX TWO OF EACH FOR 25.49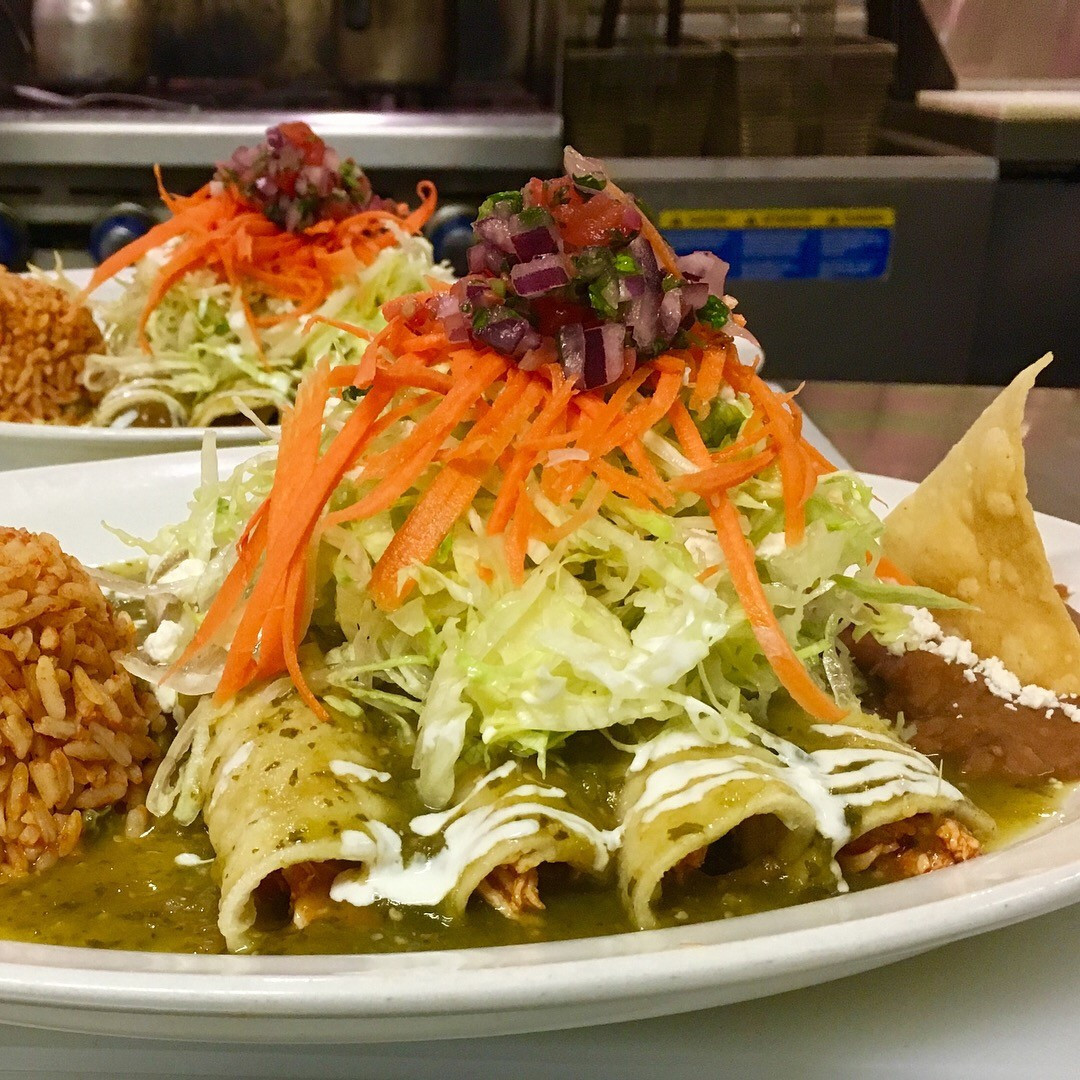 ENCHILADAS DE MOLE 23.49
As above, but instead of the salsas they are smothered in your choice of piping hot mole rojo (rich brown sauce is based on an ancient Puebla recipe that we have made uniquely our own. It's a slow-simmered sauce that contains a blend of dried chiles, spices and peanuts - infused with a pinch of Mexican chocolate). A wonderful rich exotic sauce.
* this item is not gluten free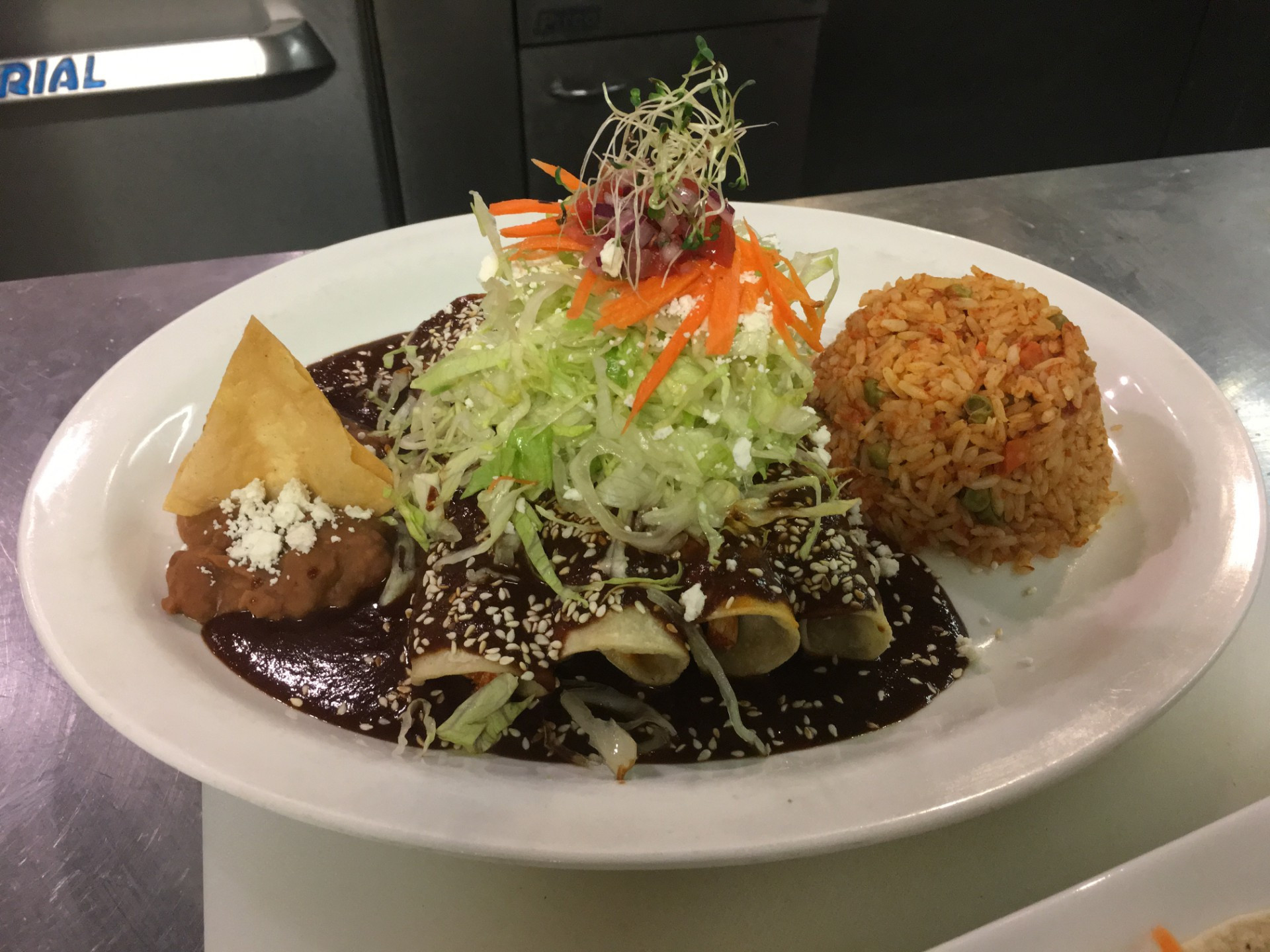 BURRITO (DINNER) 19.99
One large wheat-flour tortilla filled with your choice of tinga, picadillo or cochinita pibil. Small house salad on the side, sour cream, and crumbled cheese. Comes with our homemade refried beans and our famous guacamole.
* this item is not gluten free
POLLO CON MOLE 23.49
Chicken breast smothered in our rich brown slow-simmered mole rojo (it's a slow-simmered sauce that contains a blend of dried chiles, spices, peanuts and infused with a pinch of Mexican chocolate). A wonderful rich exotic sauce. Served with Mexican rice, a fresh garden salad and our homemade refried beans.
* this item is not gluten free